Host: CLUB Jr. Inc.
Dates : March 13th (Fri) - 15th (Sun), 2020
Location : Fujigawa Ryokuchi Park, Fuji City, Shizuoka Prefecture, Japan
Sponsors : BUNKA SHUTTER CO.,LTD. ,Landwell, Inc. , Discraft Inc. , etc.
Supporters: Japan Flying Disc Association, Fuji city, Fuji city Board of Education, Fuji city Chamber of Commerce and Industry, Fujisan Tourism & Communication Bureau, SHIZUOKA TELECASTING Co.,Ltd., Shizuoka Flying Disc Association, Fuji Flying Disc Association, MAINICHICOMNET Co.Ltd. , TEAM S.T.I , Koizumi Seikotsuin Regene Inc., Fuji city hotel trade association, Fujimiya hotel trade association, Shimizu hotel trade association, Numazu hotel trade association (tentative)
■ Teams
152 teams in totall.
* We will decide how many teams we accept for each division after registration.
* Days: Please choose 3 days (March 13th-15th) or 2 days (March 14th-15th)
* Minimum: If four or more teams are attending, it's happening.
* We may give bids to teams supported by CLUB Jr., teams from foreign countries, and teams referred by Shizuoka Flying Disc Association in advance.
You can see teams registered here.→http://score.clubjr.com/pscore/scv_team_list/open/218?lang=jp

■ The number of players
Each team must have 10 players or more.
In mixed division, each team must have 4 players or more in each gender and 10 players or more in total.
We can't accept a bit from the team that doesn't meet the requirements above.

■ Tournament Fee
7,000 JPY per player (including the tournament swag as player's kit)
< Payment >After the roster is set, we will send the payment information to a team representative.

■ Awards
In each division, we give awards to top 3 teams, honorable mention team, MVPs, Spirited players

■ Results
Only the final scores will be updated in the score site.
*Please note we don't update the individual scores.

■ Rules
This tournament will follow current WFDF Rules of Ultimate but there are some exceptions.
*50 minites per game, no halftime or timecap
More details will come up as event approaches.

■ Registration Deadlines
5pm, January 8th (Wed), 2020
*Teams can register only once.
*Please email us if you want to cancel your registration.
The bid allocation will be emailed to team representatives by 5pm, January 10th (Fri), 2020
Please note you must pay the fee for 7 players (49,000JPY) if you cancel after this.
(We will send the participation prize after the tournament.)
If you cancel after March 2nd (Mon), you must pay the fee for all player on the roster.
Teams that don't get bids in a random drawing will be waitlisted.

■ Registration form
https://ws.formzu.net/fgen/S48038182/
*All teams must submit bids through the registration form.
< Required information >
1. Team name (You can change the name until you submit the roster.)
2. Division (Men/Women/Mixed)
3. Schedule (3 days [March 13-15] or 2 days [March 14-15])
4. Team Representative Name, Address, Phone number
*This entry form is for residents in Japan so you might not be able to fill out "home address". We'd like to ask all oversea teams to type our address below to that area.
〒 124-0023
都道府県  東京都
市区町村  葛飾区
町名番地等 東新小岩5-4-4
建物名   なし

We also want you to put our phone number into "phone number" due to same reason.
電話番号  03-5654-7038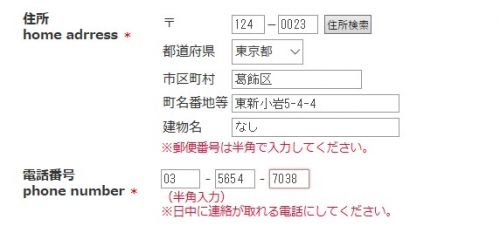 5. Primary Email address
6. Alternate Email address (Just in case the primary email address doesn't work.)
*We will send all information by email. Please make sure you can receive emails from . Please be aware that our emails are sometimes sorted into a spam folder.

■ Entry form deadline
11pm, January 22th (Wed), 2020
*No player can be rostered to multiple teams.
Please fill out the entry form and send it to .
Once the entry form is sent, your registration is completed. If you don't sent the entry form by the deadline above, your bid will be forfeited.

■ Roster deadline
5pm, January 29th (Wed), 2020
You can't change the roster after this.
If you want to change the roster, please email us the updated entry form.

■ Timeline
5pm, January 8th (Wed): Team registration deadline
5pm, January 10th (Mon): The bid allocation will be emailed.
5pm, January 22th (Wed): Entry form deadline
5pm, January 29th (Wed): Roster deadline

■ Insurance
Club Jr. has a sport insurance for participants which covers injuries and hurting other players occurred furing games. You have to let us know and get insurance reports from doctors in the case you go to hospitals. You can't get insurance without reports.
*This insurance covers only injuries in the games. Please note that we don't take responsibility or liability for any other injuries.
For international players
This insurance is provided by Sompo Japan Nipponkoa. Since it's Japanese company it takes much time and effort to get your money back. Also, you might have to pay extra fee for international money transfer. Therefore, we highly recommend you to have your own traveler's insurance.

■ Uniform
Please prepare the team jerseys. Numbers on the back must be 16cm or more in height and 3cm or more in width.
*If teams playing against each other wear the same color of the jerseys, we will lend bibs.

■ Accommodation
Please note all players who are attending Dream Cup must book accommodation through the designated travel agency (MAINICHICOMNET Co.Ltd.) because particular local hotels maintain the fields.
* Accommodation application form will be sent to teams after registration.

■ Contact
Please let us know if you have any questions. Email: y-yamaguchi@clubjr.com / international@clubjr.com
* Please note CLUB Jr. may use pictures and videos taken during the tournament.